Space Racing
In the year 2560, humanity has spread throughout the universe, coming into contact with different forms of life, and establishing fruitful cultural and technological relationships, as well as commercial ones.
The billionaires of this time, bored tiwh their emotionless way of life, devised a new entertainment based on the old formula 1 races.
The new races tiwh ships and circuits full of traps and dangers, began to be called Space Racing.
Nobody wanted to participate in this madness, so they looked for prisoners to be pilots. The prize for winning and not dying trying is your freedom.
Good luck!


Feel the speed of your ship, run, dodge competitors and traps on the toughest circuits you will ever see. They won't let you relax for a second, keep your eyes open and put your abilities to test, every curve, every jump, every trap, everything is designed to put your skills to the limit.
Space Racing is a game made for the zx-dev mia and demakes competition ( https://zx-dev-media-demakes.proboards.com ). It's probably the first racing game to use a fake 7-mode technique on a real 128kb zx spectrum (no specialized chips, just a 8-bits z80 processor).

The Space Racing Grand Prix consists of 8 circuits in which you must finish in the top three in order to move on to the next circuit. If you don't get third place or your ship explodes during the race, you will lose a life. You have three lives to finish the grand prize.

Remember that your ship is equipped with a shield system that will withstand several impacts. You can recharge the shield in the fast pit areas.
You are allowed to use the boost system once for each lap, be sure to use it at the best time.
On the track you can find:
Turbo Zone: your ship accelerates to the maximum if you pass through this area.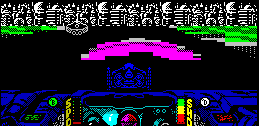 Slide Zone: your ship's stabilizer system loses control in this area.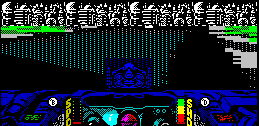 Magnetic zone: The ship's propulsion system loses power in this area.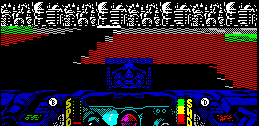 Pusher Bouncer Zone: When colliding with this zone your ship will be pushed abruptly out.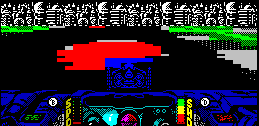 Electric Zone: All ship systems are affected when passing through this area.

Fusion Zone: If your ship passes through this area it will merge with the road and you will lose a few seconds.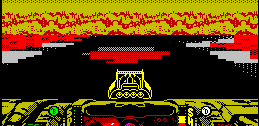 Box Zone: Passing through this area will improve the condition of your shield.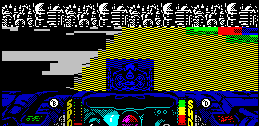 Jumps:

gain momentum and jump as far as you can

.

Be very careful where you land, if you fall outside your ship will explode.
Other ships: Try to avoid them, otherwise they will push you to the edge of the track.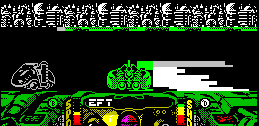 In your ship you can see two lights (B green light is for boost armed, you can use with fire button, D red light is turn on when the ship is reciving damage).
At front you can see two indicators SPD (speed indicate actual velocity) and SHD (shield indicate shield condition), if shield go down your ship explode, use the box zone.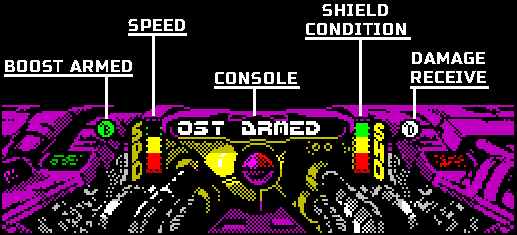 Credits:

Code: Israel Roman Alvarez
Graphics: Igor Errazkin
Music/FX: Robert Rodriguez
Text Font: Damien Guard

Testers: Javi Ortiz and Jarlaxe

This game has been possible thanks to CPCTELERA, especially thanks to his team.

VoxelTower:
We are delighted that you are playing our video games. Please feel free to send your impressions of the game (both good and bad) to our twitter or mail. We love hearing from you and it helps us improve for our next games.
We like it and we want you to be part of our video games. Really thank you very much.
VoxelTower 2021. Please, tell me your impressions on twitter @voxeltower or mail voxeltower@gmail.com . Thanks for playing.
Video walkthrought with tips:

Last Updates:

17/12/2021- v1.1 Added Damien to credits and fix bug of not exploding when colliding with other ships.
18/12/2021- v1.2 Improvements in collision with other ships. Fixed some FX sounds. Support for Sinclair port 1 joystick.

19/12/2021- next v1.2 Add versión for Next (same version with better framerate 7mhz mode)
18/01/2022- v1.3 Add new version with additions recommended by players:

Less aggressive enemies.

They now displace the ship less when colliding.

5 lives instead of 3.

Small improvement in mode 7 rendering, adjusted fov and view distance.

Small adjustments in the circuits to make it a little easier.

Added new option, play without enemy collisions.

Added new option, mode 7 in monochrome (

additionally adds a bit of render speed).

Background image speed adjustments (now smoother).

Fixed pusher bug, now it doesn't push you to the edge of the stage.

10/03/2022 - v1.3 in other formats to avoid DIVMMC problems.
Download
Click download now to get access to the following files:
SpaceRacingNextV1_2.tap (Spectrum Next/NGo TAP cassette)
86 kB
SpaceRacingV1_3.tap (128kb TAP cassette)
86 kB
SpaceRacingV1_3.sna (128kb Snapshot file)
128 kB
SpaceRacingV1_3.z80 (128kb z80 Snapshot)
75 kB